Why chiropractic?
Looking for a family chiropractor in Glendale, AZ? Stein Chiropractic offers a unique method of hands-on spinal adjusting, the Gonstead System of Chiropractic. Complying with the definition of true chiropractic as defined by D. D. Palmer, the founder of Chiropractic in 1895, Dr. Gonstead discovered there was no substitute or better method for analyzing and correcting spinal misalignments than with a pair of skilled chiropractic hands; which remains true today.
Chiropractic is a health care system based on a scientific fact that your body is a self-healing system. Common conditions we address are back pain, neck pain, whiplash, sciatica and headaches. It can be used to cure a number of other conditions including TMJ, allergies, asthma, ear infections and more. The goal of the Gonstead Method is to address the root musculoskeletal misalignments causing a patient's pain, rather than simply masking these symptoms with the treatment of drugs or medication.
At 7 ft. 2 in. tall, Dr. Torsten Stein, BS DC has experienced spinal problems since the age of 14. Medical treatments over the years just addressed the symptoms but didn't correct the underlying issues. He was sent to a chiropractor by the New Jersey Nets where he attended an NBA rookie camp. After that experience he decided to become a chiropractor himself. In his first quarter of chiropractic school he was introduced to the Gonstead Method. Ever since he has dedicated his professional life to master this system of chiropractic. Find out here what makes this system so unique that some patients travel not just from Glendale, Peoria and Phoenix, but from all over the world to experience it.
Let us help stop your suffering and call (623)521-3981 today to schedule your initial consultation.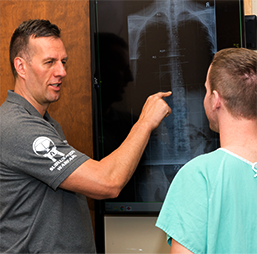 The World's Tallest Chiropractor
Dr. Torsten Stein, B.S. D.C.
COME VISIT US
CALL US AT (623)-521-3981
Steinchiroaz@gmail.com
WE'RE LOCATED AT
The Citadel at Arrowhead Ranch
19420 N. 59th Ave. Ste. H-810
Glendale, AZ 85308
OFFICE HOURS
Monday
8am - 12:45pm & 3 - 6:30pm
Tuesday
Closed
Wednesday
8am - 12:45pm & 3 - 6:30pm
Thursday
Closed
Friday
8am - 12:45pm & 3 - 6:30 pm
Saturday
9am - 12pm
RECENTLY POSTED ARTICLES
Failed Back Surgery?
Just a few weeks ago I met a young man who told me his main reason for visiting my office is "Failed Back Surgery Syndrome". I knew several people who have undergone back surgery and many of them told me that there was no change in symptoms after the surgery. I had no idea that…
Continue reading →
An Investment Better Than Bitcoin?
One of my friends invested into Bitcoin and came out big. He more than doubled his initial investment in just a few weeks. His only regret is not buying it months before because he would have made even more. He is desperate for the "new Bitcoin". So, what is the best investment? In my opinion,…
Continue reading →
<! -- ****************START MOBILE ELEMENTS************************ -->